What's Happening Now
Tambone Companies Thanks the City of Port St. Lucie
"It is amazing what you can accomplish if you do not care who gets the credit."- Harry S. Truman
Tambone Companies has had the privilege of working with the City of Port St. Lucie over the last four years, serving as the master developer to market and expedite the sale and development of land within Tradition Center for Commerce.
We are so pleased to share that we've successfully completed all purchase and sales within our agreement with the City of Port St. Lucie as part of the much larger 1,200 acres of Tradition Center for Commerce. In the beginning there were few existing projects. Since the partnership, there has been tremendous activity happening in Tradition Center for Commerce. Now, within the 1200 acres there are a total of 14 projects completed, under construction or to be built.
These achievements would not have been possible without the remarkable efforts of so many dedicated individuals working together towards a common goal. It is with great pride and gratitude that we acknowledge the exceptional team of people with whom we collaborated.
A heartfelt THANK YOU to:
The City of Port St. Lucie for your leadership and partnership
And the many people and departments within the City of Port St. Lucie that helped to achieve this collective success:
Shannon Martin, Mayor
Jolien Caraballo, Vice Mayor
Stephanie Morgan, Councilwoman
David Pickett, Councilman
Anthony Bonna, Councilman
Gregory Oravec, former Mayor
John Carvelli, former Councilman
Russ Blackburn, City Manager
Wes McCurry, Director of the Community Redevelopment Agency
Elijah Wooten, Economic Development Administrator
Sarah Prohaska, Communications Director, and her team
Margaret Carland, Senior Deputy City Attorney
Elizabeth Hertz, Deputy City Attorney
Finance Department
Planning and Zoning Department
The Economic Development Council of St. Lucie County
Pete Tesch and the entire team
EDC - Engineering Design & Construction, Inc.
Rod Kennedy, P.E., Brad Currie, AICP and all their team members
The Real Estate Community
Tom Gibson & Darryn Dunn, Asset Specialists, Inc.
Jeremiah Baron, Jeremiah Baron & Co.
Robert Kelley, Kelley Consulting, Inc.
Malcolm Sina, Sina Companies
Nate Bray, Bray Realty Advisors
Robert C. Smith, CBRE
Ted Konigsberg, Infinity Commercial Real Estate
Mike Scarpino, Scarpino Commercial Real Estate Services, Inc.
Firefly Group
Stacy Ranieri and all the "fireflies"
Congratulations to everyone on all that has transpired and all we have accomplished together over the last 4 years going above and beyond expectations. We look forward to the relationships we've built and the friendships we've formed to be long lasting.
Together we are achieving the collective goal of spearheading economic development in the City Port St. Lucie and the region, and we couldn't be more excited about the future!
Richard & Lori Tambone and the Tambone Team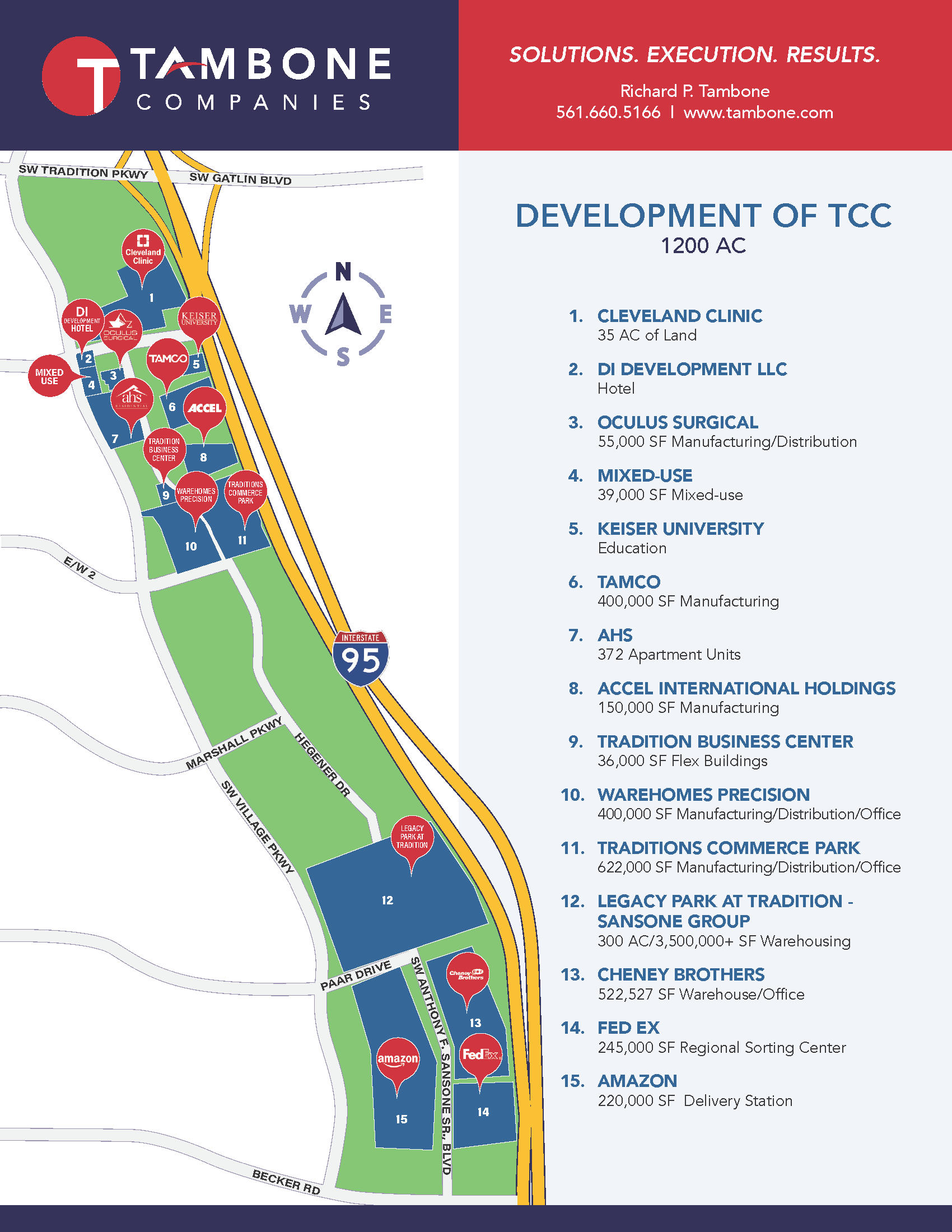 About Tambone Companies
Tambone Companies is a leading Florida and New England commercial, industrial and multifamily real estate developer. The company has developed and acquired over ten million square feet of office, research, industrial, medical and multifamily projects. Since 1981, Tambone has focused on the highly demanding built-to-suit needs of quality-minded companies. Building on its expertise and assembling top professional teams, Tambone takes companies from site selection and financing through occupancy and has a proven track record for integrity, reliability and responsiveness – spanning projects of great diversity, size, complexity and technical demands.
For more information, contact Richard P. Tambone at 561.660.5166 or visit tambonetradition.com, tambone.com or follow them on Facebook.